The Oregon Resilience Plan Turns Five
Industry Developments   •   May 14, 2018
The Oregon Resilience Plan Turns Five!
Five years ago the Oregon Seismic Safety Policy Advisory Commission (OSSPAC) created a plan to prepare Oregon for a Cascadia earthquake.  This plan, known as the Oregon Resilience Plan, has raised awareness and helped Oregonians become more resilient.  A lot has been accomplished since the plan's delivery to the legislature in February of 2013, though there remains much work ahead to accomplish the goals set out in this 50 year plan.
This past week OSSPAC held meetings in the Medford, Oregon area to get input from the local community, and help raise awareness of the earthquake risk in southwest Oregon, which is the highest of anywhere in the state.  Trent Nagele, a principal with VLMK Engineering + Design, is a commissioner on OSSPAC and attended the meetings.
A town hall meeting was held on May 7th with a presentation entitled Oregon Resilience Plan – A Five Year Progress Report, which summarized the Oregon Resiliency: A Progress Report prepared by the State Resilience Officer, Mike Harryman.  This was followed by OSSAC's regular bi-monthly on May 8th, and included testimony from local community members on efforts to heighten awareness and become more resilient.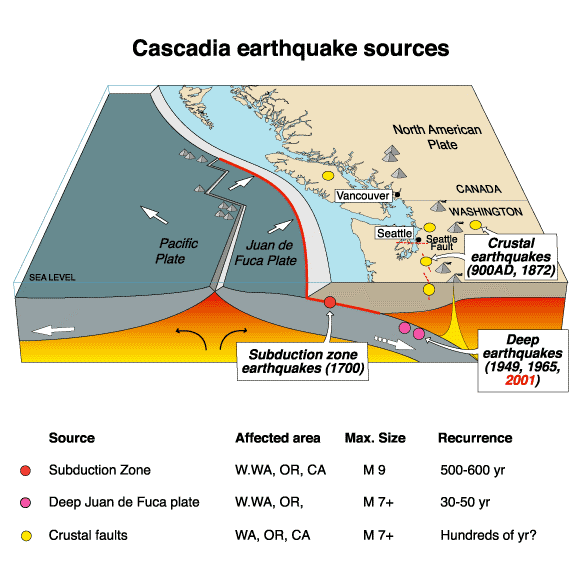 So how do you get prepared?
OSSPAC's meetings in southern Oregon lead to several local media reports on Cascadia and preparedness.
Oregon Public Broadcast has also complied checklists of items that can help you prepare.
Says OPB's site, "Many of the items below can be found in your home. Remember, what's missing does not need to be bought all at once. Think of this checklist as something to chip away at with every trip to the grocery store. It's an investment. The more you check off the list, the better you'll feel about the earthquake."
A full list of recommendations can be found here, but here a few of the highlights:
Water.  One gallon, per person per day, for two and half weeks. Remember, water is needed for both drinking and sanitation, and the time needed to restore utilities or bring new supplies to the area could be extended –certainly longer than the 72 hours often suggested previously.
Food.  Again, having a two and half week supply of non-perishable food is a good idea.
Health items, including a first aid kit, medications and hygiene products.
Communication items such as a hand crank, radio, flashlights, and signaling devices.  It's also important to have copies of person documents and emergency contact information.